Call centers are the backbone of a company's customer support infrastructure, so they must use the best software for the job. Unfortunately, there is no one size fits all package when it comes to call center software. Different companies need different things from their call centers. Though your needs may differ from other businesses, so require additional specialized software, some essential elements make up a successful call center. Before getting into that, you need to decide what type of call center you plan to be running.
On-site vs. Cloud-based
There are two types of call centers. On-site and Cloud-based.
As the name suggests, an on-site call center needs setting up at a company's property, along with all the necessary infrastructure. A company that goes this route should prepare for quite an investment. The infrastructure has to get incorporated into the existing data center, and then the employees need training on how to use and maintain both the new software and hardware. It may sound like a lot of effort, but there is one significant benefit. A company that goes this route has full control of their system. You can design the software and hardware to meet your company's specific needs.
The alternative is a cloud-based call center. Cloud-based software or Software as a Service (SaaS) gets hosted within the cloud. Company employees visit the online domain, log-in, and get to work. The software is easy to use, requires no maintenance from the user's end, and is much more affordable than building everything on-site. It is also scalable, meaning a business only pays for what they use and can change the service to meet their needs in almost real-time. Many of these cloud-based software packages come with 24/7 support teams who are experts in the software. Getting that same support for an on-site system is not practical.
Incoming, Outgoing, or Mixed
Though choosing one of the above is an important decision for a company looking to utilize a call center, there is another factor to be considered. What type of calls do you intend to make from your call center? Are you only going to accept incoming calls, make outgoing calls, or perform a mix of both? Most call center software now supports both inbound and outbound calls, though that is not always the case. Call centers that focus on incoming calls are called reactive call centers.
A reactive call center or inbound call center answers consumers' calls and then deals with a customer's request there and then. Of course, not all problems can be solved on the first try. For this reason, there is usually some way for customer service teams to reach out to the customer. However, such a call center's primary goal is to receive calls and process the request within those calls.
Proactive call centers are becoming the norm as customer service becomes a primary focus for companies. This type of call center calls the customer directly. They are also known as outbound call centers. They might call to push marketing material or to chase consumer feedback on a service or product. They can be a great way to get insights into how the service is received. In turn, that helps to improve the service on offer. Calling a customer to chase them for feedback is a full-proof way to provide the best customer experience and thus gain customer satisfaction.
The Call Center Software Essentials
Deciding whether to go cloud-based or on-site is only one part of call center software. Your chosen software needs to have the below key features no matter your decision. These features come as standard on the most popular cloud-based software. An on-site call center gives you full control, meaning you can choose what is and isn't implemented. To get the most out of that freedom, you need to ensure your team has what they need to work efficiently. The main feature of a call center is its ability to handle calls.
Call Handling
The main job of a call center is making and taking calls. For that reason, the software in use should meet several criteria. First, it should be flexible in how it handles phone numbers. Many cloud-based services allow you to use an existing telephone number. If a company has an established customer base but is expanding, such a feature is vital. Second, and as touched on above, the software should also allow for outbound calling. That tends to come as default, though it is still important to double-check. Some other key features call center software should offer include:
● Call center agents should be able to place a call on hold, mute, and be able to forward the call on
● The software should feature some form of call recording. This is a great way to ensure your brand image is getting delivered to consumers.
● Call blocking features ensure any spam and scam calls are blocked, so your call agents can get on with their jobs
● A ticket creation feature will keep tabs on customer interactions. Some software does this automatically, while others require user input. Either way, the feature is essential.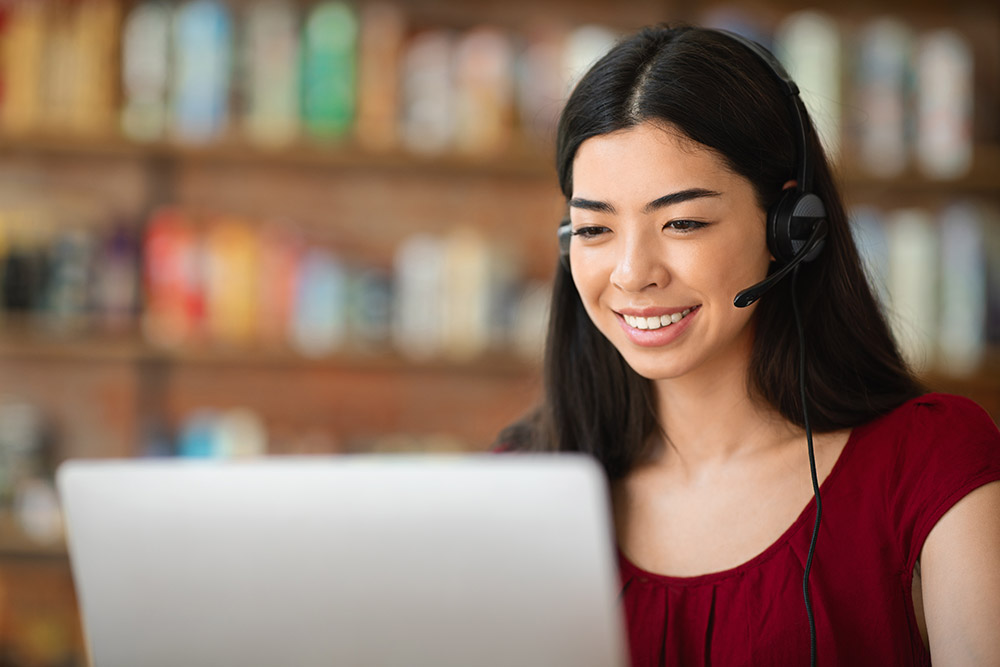 Call Routing
The bigger the company, the more calls it can expect to receive. However, there will only ever be so many call agents available. And some of those agents are better equipped to deal with a call than others. With that being the case, call center software should provide some form of call routing. Some possible call routing features include:
● IVR – Interactive voice response will automatically direct a caller to their intended destination. If they have a problem, they can go through to customer care. Are they looking to make a purchase? They can go through to the sales team. Depending on the software, this can get achieved via voice input or with key button prompts.
● Some software allows for the call to get forwarded to an alternative phone. Call agents can answer the phone when they are away from the office, which is an essential feature during the COVID pandemic.
● Consumers should be able to leave a request for a call-back instead of queuing when all lines are busy
● Outline business working hours for consumers, so they know when they can reach you
Customer Management
The idea of a call center is to handle customer interactions better. Making your company more accessible to consumers via a call center is a great first step. However, there needs to be a management system to ensure each customer interaction is to a high level. Several systems are part of call center software that makes this possible:
● Many companies already utilize CRM software to manage their consumers. The best call center software allows for easy CRM integration.
● Some form of history log is essential for call center software. Call agents can update it as necessary to ensure everyone on the team knows what is happening with each customer.
● Call center software should allow companies to push their caller ID to a consumer when calling out. It should also link to the CRM to show who is calling.
Call Monitoring and Analytics
A major part of a company's success is its ability to monitor its workers and analyze a variety of data. Call center software makes this easy. Each call center team typically has a supervisor. They are responsible for ensuring the team is doing their job to the best of their ability. A selection of tools are at their disposal, provided the right call center software is getting used:
● Standing over a call agent's shoulder while they are on a call is intimidating and not practical. Some software will allow a third person to listen in to an ongoing conversation without being present.
● Call analytics let a company keep track of the number of calls that call agents missed, how many led to a successful resolution, and more
● Individual agent stats can help a company optimize the call center team. A team is only as strong as its weakest link. If a particular agent answers a call slower than others and takes longer to reach a resolution with a consumer, the software should show it.
Predictive Dialing
Predictive dialing is a part of call center software designed for those that make outbound calls. It uses an algorithm to dial out to consumers automatically. Predictive dialing eliminates call agent downtime and removes the job of physically dialing someone. For such a process to be efficient, the algorithm needs to consider multiple factors, including:
● The rate of call connection
● The average time a call agent spends on the line
● When and how long call agent breaks are
● The number of calls that get abandoned
The predictive dialer system monitors these stats and more throughout the day before updating the algorithm as necessary. With the results analyzed, the system can calculate how many agents are free at any one time. With an idea of how many calls get abandoned, it knows how many consumers it can call at once. Once a consumer answers a call, the system will transfer the call to an agent and log the exchange.
Such systems are popular among telemarketers, as they are looking to make as many calls a day as possible. Debt collection companies also utilize such systems. However, if you were to use such a system, you need to ensure you are up-to-date on the applicable legislation. Both federal and state-level regulations protect consumers, with the TCPA being one of them.
An alternative system is a progressive dialer. A progressive dialer only dials out when a call agent marks themselves as available.
The Top 5 Pieces of Call Center Software on the Market
The above gives you everything you need to find call center software that meets your needs. Opting for an on-site solution gives you a lot of flexibility. You can put together a system that checks all of your boxes. However, you should prepare to pay for it, as putting together a system from scratch does not come cheap. Many businesses will opt for the alternative cloud-based SaaS system for the advantages outlined above. With that in mind, below are 5 of the best SaaS systems on the market at the time of writing.
LiveAgent
The call center software on offer from LiveAgent comes as part of their help desk solution. That solution itself offers various means of communication for call agents to utilize. Inbound calls and outbound calls, live chat, and social media messaging are just some examples. Call routing and call recording are additional features of interest. Internal communication is also possible through the system. Finally, the software does come with an API to integrate into other systems, including your CRM, with ease. These features come to users with the all-inclusive package at $39, per user, per month. There is a 14-dayfree trial available for those who want to try before they buy. Unlike other call center software, there is no usage fee on top, making LiveAgent an affordable option.
Zendesk Talk
Zendesk already has a name for itself as being one of the top customer service platforms. Zendesk Talk is their attempt at a call center solution and it's easy to see why it appeals to all sizes of businesses. The software comes with a variety of call handling solutions to ensure companies never miss a call. If the company's call center does go down, there is an emergency routing feature. That way, a customer will always have their call answered. One feature that doesn't come as standard on other call center software is the ability to send and receive SMS messages. A free trial is available if you prefer to try out the software before committing to a monthly fee. If you would rather jump in and pay for the service, there are various tiers at different price points. There is one tier that comes free of monthly fees though it has minimal features. No matter which option you go for, you will need to pay for your usage on top.
Talkdesk
Talkdesk is completely browser-based though that doesn't stop it from offering a wide variety of functions. Call handling and routing features are just some examples of what is on offer. Talkdesk's standout feature is that it ensures the entire call center team knows what is happening. It does this by forwarding email notifications for missed calls while desktop notifications let an agent know a call is incoming, even if they are away from the phone. Talkdesk integrates with 30 of the most popular customer service applications, including Shopify. Pricing is per a user's needs, so it varies depending on the level of features required.
Five9
Five9 gives focus to making call agents more efficient. It offers predictive and progressive dialing, along with a variety of workforce management tools. Insights to call agent performance allows a company to get the most out of the team. Built-in CTI pop-ups allow those same agents to access customer data on the fly. The better equipped a team is, the better it can serve consumers. Like other cloud-based services, Five9 works on a subscription model. A company only pays for what they need, though pricing does start at $100 per user, per month. That makes it one of the more expensive solutions on this list. Though the service is extremely customizable, there is no indication of a free trial.
Aircall
Aircall call center software is available for desktop and as a mobile app, meaning a call agent can answer a call anywhere, provided they have an internet connection. The routing capabilities of the software make this even easier. Users never have to miss a call from a customer again. There is also a variety of call handling tools and analytics on hand. It is easy to link to a variety of sales software, including Salesforce and Shopify. The API also means it can integrate with CRM systems. In short, it is an excellent piece of call center software. The basic package comes in at $30 per user per month. Even then, there are a lot of features to make use of. $100 per user per month provides even more advanced features. Custom pricing is available for those who can't find what they are looking for in the two packages. There is a free trial on hand, which allows a user to get to grips with the system before committing.
I Don't Want to Pay For Call Center Software
Cloud-based software is already more affordable than the on-premise alternative. However, in the current climate, companies are looking to save money wherever they can. With that being the case, there are free pieces of call center software. It is worth noting that they will never be as comprehensive as the paid alternative. But, if a company only requires minimum functionality, they might prove useful.
One of the most popular free tools is Bitrix24. For software that does not cost, there is a lot of offer. Call routing, call recording, and automated greetings are just some features. However, it is only suitable for a small team. There is also no IVR though it is available when upgrading to a paid plan.
Another free alternative is CallHippo. It is straight forward with no unnecessary features. It even allows for sending and receiving SMS messages, which is not something all paid services offer. It is free, so there is a downside, and that is that it only allows for two users. A small business can work with such limits, though it will be difficult even then. A paid plan will open up more possibilities.
Freshcaller is the final free contact center platform worth a mention. It allows for unlimited call agents and comes with nearly all the features a call center needs. Of course, some features found on paid plans are missing, such as IVR and call recording. However, if paid yearly, the software is one of the more affordable alternatives.
Free Isn't Always Best
In short, there are free pieces of call center software on the market. If a company only needs limited functionality, then it might work for them. However, many paid plans come with free trials, so it is worth investigating. You will find that your call center team's productivity skyrockets, which, in turn, makes the monthly fee worthwhile.