Is There Really a Free VoIP Service?
VoIP or Voice over Internet Protocol is the most efficient way of making phone calls. A VoIP system is used to make calls through the internet, rather than through a mobile network or regular landline. It converts your analog voice signals into digital ones. Then, it sends the signals as data over your broadband connection.
VoIP also consists of other forms of communication, including textual and video. Thanks to the efficiency, affordability, and simplicity, VoIP is an in-demand technology. It has become more popular than a traditional phone line. But is it free? Are there services that offer free local and long-distance calling? If yes, what are the best free VoIP providers? Read on and find out more about free VoIP solutions.
Getting Started
VoIP technology is a cost-effective and reliable way of communicating. That's why many people are moving away from the traditional phone service over to VoIP.
Switching over to VoIP requires setting up your own VoIP phone system. You can set it on your computer or smartphone and make phone calls using VoIP apps or software programs. With specific programs, you are able to call mobile numbers or landline numbers too. However, making these phone calls might come with a certain pricing plan. That means that free VoIP calls might be limited to those who also have the app. In addition to installing apps and computer software, also called softphones, you can create a VoIP system using a regular landline phone. All you need to do is get a digital VoIP adapter and plug it into a router or socket.
Moreover, many Internet Service Providers (ISPs) offer VoIP calling to their customers. This feature is often included in their internet package. In other words, a VoIP system is an add-on service that costs the same as a traditional landline. So, it is usually not free. Plus, it may require paying additional monthly fees, depending on the provider. Contact your ISP to find out more about your options and rates.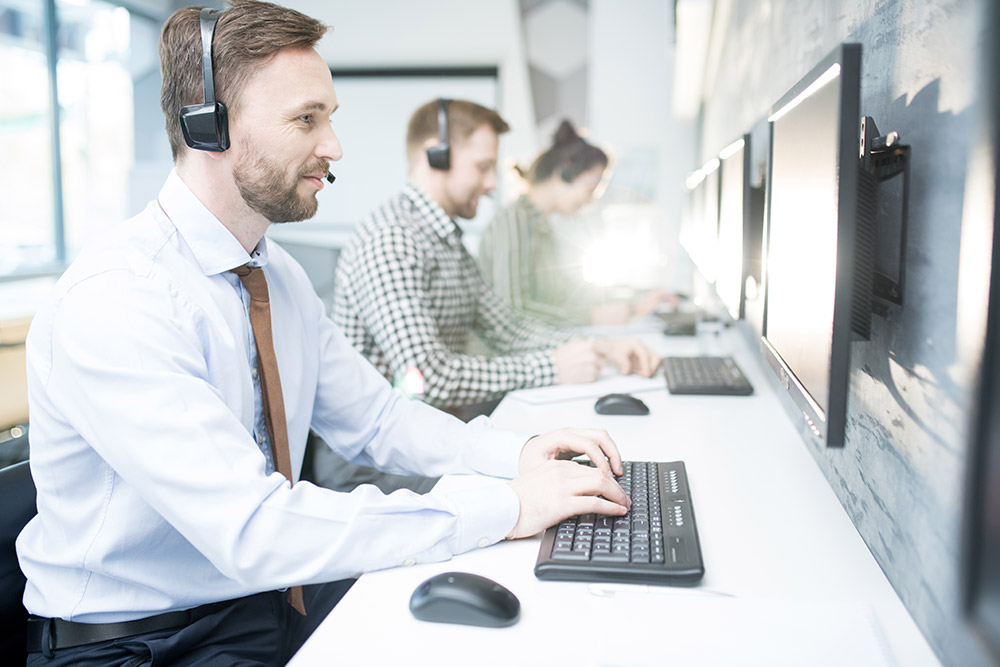 Free VoIP Services
As opposed to regular phone lines, VoIP won't rack up your phone bill. Even though some might lack voicemail or call waiting features, you get an enhanced calling experience with VoIP services. Let's say you are working from home. Video calling, recording your calls, and video conferencing are beneficial features. Here are some of the most popular free VoIP options on the market.
Skype
Skype is a VoIP app that offers free Skype-to-Skype audio and video calls. It also comes with the option of calling regular landlines. You can subscribe and call any phone number in the US. Moreover, you can make phone calls worldwide through the World Skype Credit service. Its free plan includes screen sharing, file sharing, etc. There is also "Skype for business" that comes with four different plans.
Viber
Viber is one of the top mobile apps that offer free calls, texts, and video conferences with other Viber users. It used to be an app operating on iOS and Android only. Today, it is available on Windows, Mac, Linux, and other operating systems over WI-FI connections. And most importantly, making international calls using your smartphone with Viber is also free. When making a call to a non-Viber user through Viber Out, a fee is applied. In this case, you can choose a plan that suits your needs. For example, there is a monthly subscription plan, as well as the Viber Out credit.
Facebook Messenger
Facebook Messenger is another popular app that provides free VoIP services. It offers free voice calls, instant messaging, and video calls. On the downside, the app doesn't support making calls to real phone numbers like landlines.
Are Business VoIP providers free, too?
There are free VoIP solutions for businesses as well. However, there's a catch. Most providers offer free trial packages to attract new clients. These solutions often come with limited features that might not work for some businesses. No CRM integration, limited minutes, or enough minutes on a lower speed tier are some of them. Nevertheless, these features are ideal for freelancers and small businesses. Bitrix24, Dialpad, and OnSIP are among the top free VoIP platforms for businesses.
Ooma, on the other hand, offers both free and premium services. The basic service is free, but you need to pay state-imposed monthly fees. Its sophisticated functions include call waiting, voicemail, and allows for making 911 calls. Another useful feature is that it supports text messaging and SMS. Ooma is designed for both residential and business use.
Additionally, there are many VoIP solutions for businesses that have mobile teams or work from home. Grasshopper, for example, is a desktop app that works just like a traditional phone system. There's no need for additional hardware as it integrates with the phones you already have. You don't have to be in the office to take calls or send messages. Grasshopper offers a free 7- day trial. If you opt for this service, you can choose between four different plans. The Solo plan only costs about $26 per month.
Free VoIP Phone Calls with Google Voice
Some time ago, Google Voice only worked with incoming calls. It was previously called Google Talk. In April 2008, Google introduced VoIP calling using Google Voice. The new version gave people and businesses a chance to save tons of money on outgoing calls. You can make free calls to the United States and Canada and low-cost international calls. There is no expensive hardware to buy or long-term arrangements to sign. Additionally, you can make calls in areas without any cell service, as long as you have a Wi-Fi network.
Furthermore, Google Voice allows its users to connect to other Google services they use. So, how do you set it up? Well, you need a working phone number before you get started. First, install Google Voice. Google Voice will give you a phone number, which you can keep for as long as you want. Then, link the service to the phone (an existing phone number). Now you're good to go. You can then make any adjustments you want, like changing your voicemail greeting.
Sending and receiving texts through Google Voice is also available, whether you use Wi-Fi or cellular data. You can send text messages to anyone in the US or Canada free of charge. But, beware of roaming fees when you are outside the US. If you're using cellular data to send messages, roaming fees might apply.
In Conclusion
Free VoIP has an incredible value as a new way of virtual communication. Unlimited calls and texts are some advantages you can reap from VoIP at both homes and in businesses. Switching over to VoIP, however, entails a stable and consistent internet connection. The quality of voice and video calls depends on how fast (or slow) your internet is. A phone number isn't always necessary as most VoIP apps and software only require you to register. Explore your options and choose the right VoIP solution for optimal results.